Solar-Powered Clock Controller
Solar-Powered Controller (Quartz)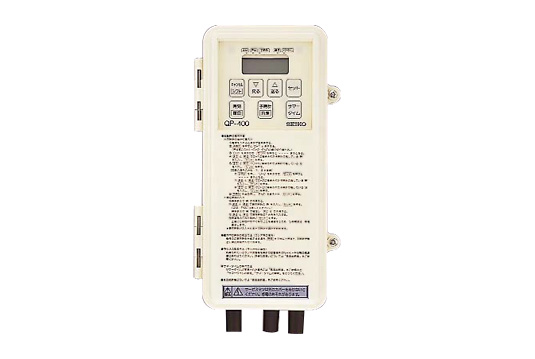 This unit is a clock drive for the outdoor by which a having 30 seconds signal is output. This unit can drive 1-2 clocks to ø500-ø700.
Time accuracy
Average monthly rate: 3sec (+5℃~+35℃)
Secondary clock output
Number of circuits : 2 ch
Signal form :
30-sec polarized signal: DC 3.6 V, pulse width of 250 ms
Output capacity : DC 3.6 V, 60 mA/channel

Solar panel
Installation condition :
At a place where solar panel is exposed to the sunlight for at least four hours a day (10:00 AM ~ 2:00 PM)
Built-in battery
Ni-cd battery(3.6V 1200mAh)
Time setting
Key operation
Operational temperature range
-20℃ ~+60℃
External synchronization
Clock driver is regularly corrected according to a having 30 second
signal from the external master clock.
Once a day (AM1:00 correction)
DC3~30V 1.3mA(at3.6V) 12mA(at24V)
Correction accuracy less than ±100ms
Summer time
Reservation at the day before which depends on key operation.
Digital fast and slow adjustment
Function to raise clock accuracy by repeating match of 0 accurate seconds by manual operation.
Outer dimensions
W110 × H211 x D77 mm